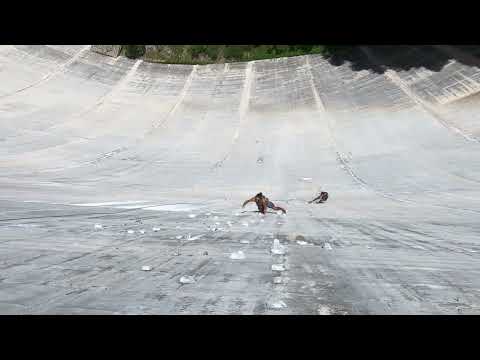 Sports
Climbing wall on the Emosson dam
Finhaut
Have you ever imagined climbing the vault of a dam, evolving on a structure with receding lines, moving in an unusual environment, climbing the highest artificial climbing wall in the world?

This spectacular and difficult climbing route crosses the Emosson dam at the steepest and highest point of this gigantic vaulted wall. This wall named "Dévers EMOSSiONel" is for experienced climbers because the route is level 6B sustained (boulder rating) and due to its length, the forearms must hold up. It is therefore strongly recommended that the lead climber have a level 7A and above.
The approach walk to access the bottom of the dam is 30 minutes.
USEFUL INFORMATION:
Go to the Pures Emossions center to announce yourself, read the information, make the payment and sign the discharge of Declaration of acceptance and respect for the conditions of use of the climbing route of the Emosson dam wall to be found below.

In exchange for an identity document, two access keys will be given. (Maximum 6 duos at the same time on the wall)

In the event of a problem, an abseil is possible up to the third belay, otherwise the intervention of a helicopter (costs payable by the climber) or an emergency column will be set up (costs payable by the climber) .

HISTORY OF THE WAY:
In the 2000s, four guides from the Trient Valley (Volorio Marc, Lugon-Moulin Samuel, Amaudruz Paul-Victor and his brother Thierry) designed and built this climbing structure on the downstream face of the Emosson dam. Closed for more than 20 years, Pures EMOSSiONs has brought this magnificent route back up to standard and reopened to the delight of experienced climbers who will attempt the adventure.
The 150 meters in height of the Dam directly above with a slope of 15 meters make the originality of this aerial route. The length requires the lead climber to be level 7 to be comfortable, and good endurance for all practitioners.
Prices
CHF 25.- / pers.
No reservation possible
Contact
According to the weather conditions

1925 Finhaut
Route d'Emosson
Social media
---
Location / Access
GPS coordinates :
46.066762274521416, 6.931182146072389
Access :

BY VEHICULE
From Switzerland: Martigny - Col de la Forclaz - Finhaut - Emosson/Col de la Gueulaz
From France: Chamonix - Col des Montets - Finhaut - Emosson/Col de la Gueulaz
The road is open during the summer season only (from May to mid-October, depending on weather conditions), check the current road conditions.
BY PUBLIC TRANSPORT
By train, with the Mont-Blanc Express to Châtelard- Frontière station. Then, with the Châtelard- Frontière-Emosson bus line - Timetable
BY FOOT
It takes about 2 hours from Finhaut (+ 800m difference in altitude).